Welcome to WordPress. This is your first post. Edit or delete it, then start writing!
According to David Walls, William Goodell Frost, President of Berea College from 1892 to 1920, was "the first person to give a precise geographic definition to the Southern Appalachians as a cultural region" with the help of his former student, C. Willard Hayes, "then working for the Geological Survey."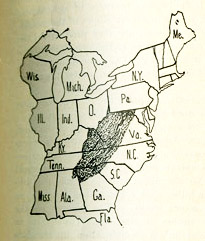 Though Frost's text indicated that the region was 194 counties, county boundaries have shifted since 1896. Our ArcGIS recreation includes 195 counties as our best approximation of Frost's hand-drawn map.
1895 to 1901 – Berea Hypothetical Region
1917 – Physiographic Provinces
1918 – Berea Region
1921 – John C. Campell's Region
1935 – USDA small region
1935 – USDA full region
1940 – Works Progress Administration – Rural Cultural Region "Allegheny"
1940 – Works Progress Administration – Rural Cultural Region "Appalachia"
1940 – Works Progress Administration – Rural Farm Cultural Region
"Allegheny"
1940 – Works Progress Administration – Rural Farm Cultural Region
"Appalachia"
1962 – Ford region
1964 – PARC
1965 – Original ARC Region
1965 – ARC second iteration
1967 ARC
1978 – Watts Mountain Terrain
1978 – Watts Socioeconomic Region
1978 – Watts Homogeneous Region
1983 – Raitz and Ulack Region
1990 – ARC
1991 – ARC
1994 – Paul Salstrom's Region
2002 – ARC
2008 – ARC
2002 – Core Region from John Alexander Williams
1996 – Consensus Region from John Alexander Williams
1996 – Loose Region from John Alexander Williams